Soojin Chung is a feature film, TV, Documentary editor since 2000.
Soojin's credits include Park Chan-Wook's Venice Film Festival winner LADY VENGEANCE, THE 8TH SAMURAI (Oscar Qualifier 2010), ESCAPE FROM TOMORROW (Sundance 2013) LITTLE PINK HOUSE (starring Catherine Keener) and AMERICAN DREAMER (starring Jim Gaffigan).
Soojin also produced and edited ESCAPE FROM TOMORROW which premiered at The Sundance Film Festival in 2013. Shot entirely undercover at Disney World, the film became one of the most talked-about titles at the festival. The LA Times called it "one of the most provocative movies ever seen" and Variety said, "its cult status will remain immortal."
Soojin received an M.F.A. for Editing from the American Film Institute Conservatory. Soojin was awarded the American Cinema Editor's EDDIE AWARD and was nominated for BEST EDITOR at the Show Off Your Shorts Film Festival.
Soojin has participated in the IFP Trans Atlantic Partners Program, Film Independent's Project Involve, The Tokyo Talent Campus, and the CAAM Fellowship. Soojin was recognized as one of the Best New American Filmmakers by the Vilcek Foundation.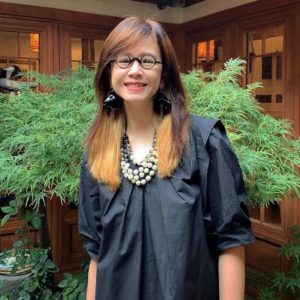 Jacqueline Tong is project manager of the moving image programmes at the Hong Kong Arts Centre, and was previously program manager at the Asian Film Awards Academy. She has organized and curated more than 30 film programmes at the Centre, and has designed Asian film screenings, masterclasses, panels, and educational and professional training programs with multiple international film entities, including BAFTA and Medienboard Berlin-Brandenburg, and festivals including Edinburgh, Busan, Tokyo, Taipei Golden Horse, Hawaii, Kerala, Five Flavours and Pacific Meridian amongst others. She was awarded K-Fellowship by the Korean Culture and Information Service of the South Korean government. She graduated with a master's degree in Contemporary Cinema Cultures from King's College London (UK). She is an admirer of Korean arts and a hearty eater of Korean food, and is currently self-learning Korean (slowly).
Joonhan Lee is a Seoul-based filmmaker who runs The Whale Company, creating quality Korean content that caters to world audiences. Lee started his career in the TV commercial industry after finishing his study in photography at Chung-ang University. After a few years working as a commercial producer in Seoul, he moved to New York to study cinema and received his MFA in film producing from Columbia University.
He is the Producer of a short film, "The Strange Ones," directed by Lauren Wolkstein and Christopher Radcliff, which has featured in many prestigious film festivals, including Sundance and SXSW. He also worked as Consulting Producer for the feature version of "The Strange Ones," which screened at SXSW and Rotterdam International Film Festival in 2017.
Lee worked as a producer of "The Horizon," directed by Minji Kang, a critically acclaimed feature-length interactive 360 VR film that premiered at the 2022 Bucheon International Fantastic Film Festival. Lee co-produced "Ajoomma," directed by He Shuming, which premiered at the 2022 Busan International Film Festival. Lee is developing and producing his upcoming feature, "Mission" (a.k.a. The Seed), an international spy action film with a Korean female lead.
Film director and writer Hyunghyup Kim made his directorial debut in 2017 with a Korean comedy film 'Daddy you daughter me". Currently, He is working on OTT series for CJENM as a writer and director. He also teaches media and film at Woosong University as adjunct professor.
James teaches screenwriting and film production at The New School University in New York City. He earned MFA degree in Film Directing and Screenwriting from Columbia University and has worked on many film productions. His film, Wianbu, won the East Coast Regionals at the 35th Student Academy Awards (Oscars ®) and it was nominated as a national finalist. He recently published a book titled Script Analysis with Focal Press-Routledge.
Minji Kang is a South Korean filmmaker with an international background. She had the honor of screening one of her short films, Like Sugar on the Tip of My Lips at the 2012 Korean American film Festival New York (KAFFNY), and she is thrilled to return as a jury of the short competition program at the 2022 KAFFNY.
Kang's MFA Thesis film The Loyalist received numerous accolades, including a nomination for the Best Female Director Award from the Adrienne Shelly Foundation; the Best Short Film Award from the DC Asian Pacific American Film Festival. Her feature project in financing, Illicit, was chosen for the Bucheon International Fantastic Film Festival (BIFAN) Network of Asian Fantastic Films (NAFF) Project Market (2019) and the Fantastic 7 of the Marché du Film – Festival de Cannes (2020). During the Covid-19 Pandemic, Kang helmed a 360° Immersive & Interactive project The Horizon (2022), which premiered at the 2022 BIFAN XR: Beyond Reality. It is presently exhibited across immersive platforms including Steam VR. She is an alumna of Berlinale Talents Tokyo, BIFAN Fantastic Film School, Cine Qua Non Lab, and the Busan Asian Film School (AFiS). Kang earned her BFA from the School of the Art Institute of Chicago (SAIC) and holds an MFA in film directing from Columbia University in New York. (More about her: www.minjikang.com)
Josh Kim is a Korean-American filmmaker whose debut feature, How to Win at Checkers (Every Time), premiered at the Berlin International Film Festival in 2015. The Thai-language film won over 21 jury and audience awards and became the country's official entry to the Academy Awards and Golden Globes for Best Foreign Language Film. Previously, Josh worked as a producer with John Woo on the Korean remake of A Better Tomorrow and has since directed videos for Apple, Google, NPR and the Wall Street Journal. He most recently was a director on Forbidden, HBO's first original TV series in Thailand.
http://joshkim.tv/